The MitoMax is ranked #1 red light therapy device for its highest grade in light output & cost effectiveness without loss of quality or warranty.
Price
• $699 USD
Return Policy
• 60 Day Full
Warranty
•  2 Year Full
Sizes Available
• 4 Options
Check out Mito Red Light Here! ↓
The RedRush 840 is by Red Therapy Co, based out of Solana Beach, CA, they are relatively new to the red light therapy scene but already receiving great feedback & reviews.
100.5 mW/cm2
37,245 to 44,168 Joules
Comparing RedRush 840 PULSE
Comparing RedRush 840 PULSE
Price
• $995USD
Return Policy
• 60 Day Full
Warranty
•  2 Year Full
Sizes Available
• 2 Options
Check out Red Therapy Co Here! ↓
The Joovv Solo by Joovv is probably the most well known in red light therapy, currently they have the widest network of marketing in the red light therapy industry.
Price
• $1,345 USD
Return Policy
• 60 Day Full
Warranty
• 2 Year Full
Sizes Available
• 7 Options
Note that Health Mat Review is an affiliate for some of the products linked to on this page, Mito Red Light, & Red Therapy Co. This means we receive a small commission for any purchase made with our coupons or via the links on this page at no additional charge to the customer. We use this to keep our page relevant and up to date for the community. For more information see our disclaimer at in the footer of this page.
Factory Rating * – see further information below on Irradiance Power Testing
EMF Strength* – see further information below on EMF Shielding & EMF Output of Devices
MitoMax Panel Size: 9″ x 36″

Solo Panel Size: 8.5″ x 36″
Mito Red Light vs Joovv - What to Consider
When looking for a red light therapy panel or device, there is a lot of marketing and information available on all brands which can make it difficult to pick out which panel or device will be the best for you.
Putting the different factors into context can make your choices easier to make, and when considering red light therapy, thankfully there really aren't that many factors to be considered.
Primarily we want to make sure that the product we choose is going to provide the most effective red light therapy, thankfully this is easy to determine based on the research available on the topic.
There are 2 highly effective wavelengths of red light therapy light, 660nm and 850nm, this is the first box to check when considering any device; and most devices check this off.
The second factor in effectiveness is going to be the power of the light, this can be measured in more than one way but it's important to be aware that these measurements could be construed to mislead.
This is one thing which we don't like about the Joovv devices, despite otherwise appearing to be good products.
If you visit the Joovv website you'll see that they compare the Joovv Elite and Joov Solo devices against a "Device A" and a "Device B".
At first glance it appears that the Joovv devices deliver far greater light power output in Total Light Output (watts), Energy per area (cm2) in 10 minutes (joules) and in Total Energy Output in 10 Minutes (joules).
Why did they pick Device A and Device B to be half the size or even smaller than the Joovv Solo when the competition's products are actually relatively the same size, MitoMax 9″ x 36″ and Joovv Solo 8.5″ x 36″?
Perhaps this is because if they compare total output power per surface area at 6″ distance, despite the Joovv being a lower powered device, it will show the Joovv with higher output per panel surface area.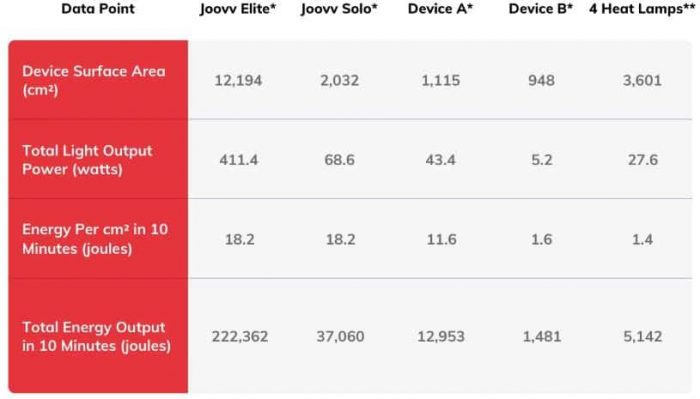 Of course it is clear to see that Device A, half the size, will output less Total Light Output, and less Total Energy Output in 10 minutes, but the Energy Per Area (cm2) looks like it is heavily lacking for the smaller devices. 
When we look at the light energy output per panel area shouldn't it be the same or close to the Joovv because we've accounted for the size?
This is in fact not the case, because for a larger light panel you will have far more light rays converging on your point of measurement 6″ away.
If you want to measure the relative light power output of different sized panels, then an accurate comparison would be Total Light Output per Device Surface Area, calculated as follows:
Device A = 43.4 watts / 1,115 cm2 = 38.9 milliwatts
Joovv Solo = 68.6 watts / 2,032cm2 = 33.7 milliwatts
Very apparent that the output power of the Joovv is in fact less per panel size area than Device A.
But wait the data shows that Energy Per cm2 in 10 Minutes (joules) is greater for the Joovv Solo than Device A.
This is because this measurement was taken at 6″ distance from the panels.
To put this in perspective, if we took a Joovv Solo, and made it the same size as Device A, what will we see for Energy per cm2 in 10 Minutes (joules)?
We can extrapolate a ratio from the numbers we calculated above, 38.9 milliwatts / 33.7 milliwatts = 1.154, this shows that Device A without considering size, outputs 15.4% more than the Solo, reducing the measured Energy per cm2 in 10 Minutes (joules) of Device A by the same ratio we can find an estimated output for a Joovv Solo of the same size.
Joovv Solo of same size as Device A = 11.6 Joules / 1.154 = 10 Joules of Energy per cm2 in 10 Minutes vs 11.6 Joules from Device A.
This is simply important to be aware of so that we can make  informative decisions based on information from a level playing field.
A better comparison would be for instance the measurement data from the Mito Red Light MitoMax device, which is the same size as the Joovv Solo.
Thankfully both brands provide this information for us to compare as we've excerpted below for you,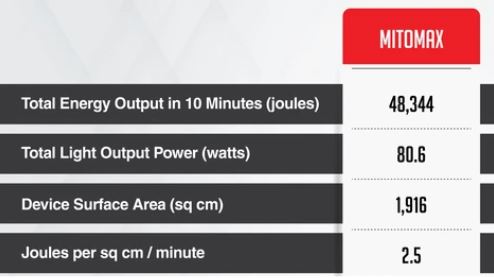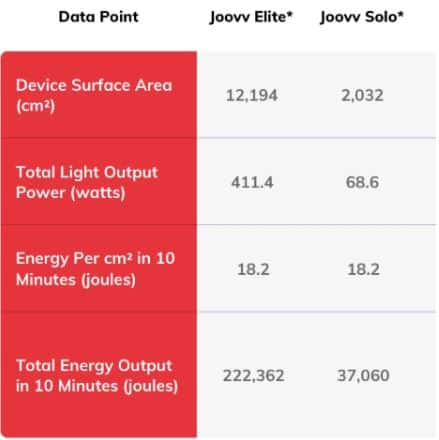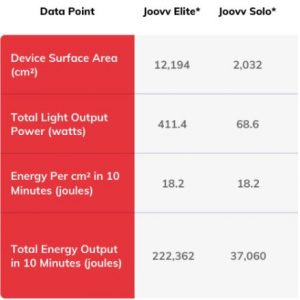 With the figures above it's much easier to see an accurate representation of power data between devices of similar panel sizing.
The important ones to consider are the Total Light Power, 80.6 watts vs 68.6 watts and Total Energy Output in 10 minutes, 48,344 Joules vs 37,060 Joules.
With these factors considered, the Joovv is still a high quality red light therapy device, and provides the option to combine your panels into modules to turn on at the same time and control via Bluetooth whereas you would need to control your Mito Red Light like you would any other light in your house and if using multiple Mito Red Lights together would need to turn them on individually.
For us the modular and Bluetooth abilities of the Joovv aren't high on the priority list because we're looking primarily for the most effective product per dollar spent, and therefore our top choice in this case is the Mito Red Light.
We hope you've found this article helpful in your research and if you have please share it with your friends!
Joovv vs RedRush Red Therapy Co

Solo Panel Size: 8.5″ x 36″
RedRush 840 Panel Size: 10.5″ x 38.5″
Joovv vs RedRush Red Therapy Co - What to Consider
As with any large purchase, it's important to identify what is important to you in a red light therapy device and then make your choice accordingly.
Both the Joovv and the RedRush (and MitoRed), all have excellent 60 day guarantee return policies, along with 2 year warranty policies and 50,000 hour rated lights including both effective wavelengths, 660nm and 850nm.
With these purchase factors all equivalent the differences boil down to, light power, accessories, and size choice.
When regarding the light power discussion between the Joovv and the RedRush devices there is some gray area.
The Joovv provides more light power information on their website than the RedRush does including some testing, however the RedRush provides irradiance power figures at different distances from their device.
The Joovv lists their irradiance as 100 mw/cm2, and adds an asterisk to say at the bottom "* Irradiance varies based on wavelength configuration and distance from the device."
The RedRush lists their irradiance as 100.5 mw/cm2 at 6".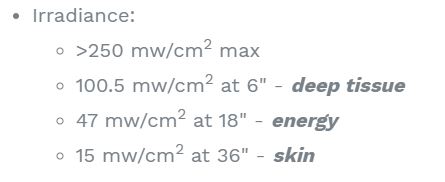 We wonder why would the Joovv not simply state at which distance away from their device this 100 mw/cm2 measurement or factory rating was made.
We can only assume that it is made at 6" from their device as indicated by their other power data tables and comparing this 100 mw/cm2 figure to other device's power at 6" the MitoRed and RedRush also having similar figures at this distance, 110 mw/cm2 and 100.5 mw/cm2 respectively.
In the interest potential customers we hope that Joovv will update their power information to be easier to comprehend without trying to read between the lines as currently it does make one speculate whether this information has been left out for a reason (because their device is underpowered relative to the competition?).
Regarding accessories between the devices, both the RedRush and the Joovv both come with an app you can download for free to monitor your red light therapy session length to optimize the session.
The RedRush also comes with a pair of light reducing glasses to wear with your session which the Joovv does not include, otherwise accessories include mounting screws and cables and are more or less the same.
Joovv certainly has a leg up on the RedRush in terms of different sized devices available with 7 different sizes compared to the RedRush having only 2 available.
The Solo is the most popular product by Joovv, as it is a healthy medium between an ultra large and expensive panel, and a smaller panel which can't cover the same treatment area.
The RedRush 840 is effectively the same size as the Joovv Solo, so despite having only 2 options available, RedRush does offer the popular size of device for a good balance between treatment area provided for the cost.
With the warranty, guarantee, and other standard factors all equal for personal home use we don't feel the need to spend multiple thousands of dollars to build a large modular set up like is offered with Joovv and therefore would rather take the slightly more powerful RedRush 840 device for a steep discount compared to the equivalent Joovv.
We hope this article has been helpful to you in making a red light therapy choice for yourself and if it has please share it with your friends!
RedRush vs Mito Red Light
RedRush 840 Panel Size: 10.5″ x 38.5″
MitoMax Panel Size: 9″ x 36″
RedRush vs Mito Red Light - What to Consider
Here we compare our top two ranked red light therapy devices, the RedRush and the Mito Red Light.
These two are much more similar to one another than they are to any of the Joovv devices.
They both use the most effective light wavelengths, 660nm and 850nm like the Joovv, and they both also have great 2 year warranty periods and 60 day money back guarantees.
Both the RedRush and the Mito Red have greater light power than the Joovv devices, however the Mito Red has the clear advantage in this area of consideration.
The RedRush products all come with a free app to help you manage your red light therapy sessions to get the most out of each session.
Personally this author likely wouldn't use an app even if it was free to help guide red light therapy sessions because you really only need to be conscious of how close you are to the light and how much time you spend in front of it.
However we can't speak for you, and it would certainly be fun to use an app to keep on track and get the most out of your red light therapy device.
Just like when we compared the RedRush to the Joovv, the RedRush certainly has less size options than the MitoRed.
This lack of alternative sizing is not a deal breaker for us as the most popular size and the size which we would order is still available from RedRush.
Due to the higher light power of the MitoRed, it is likely that it emits marginally higher levels of EMF's than the RedRush does. The EMF's however, like we show in the comparison table at the top and discuss further below, do not end up playing any kind of factor in our decision making process as the levels are so low.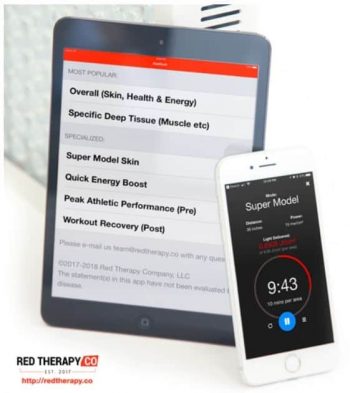 All in all, between these 2 devices one really cannot go wrong.
Final thoughts would be simply that if you're keen to use an app to keep you on track with your red light therapy, go for the RedRush, and if you're indifferent to using the app and would prefer a little more light power for a slightly shorter red light therapy session, go for the MitoMax.
We hope all these comparisons and collected product data & policies have been useful to you, don't forget to share our page with others if you've found it helpful!
The different brands all state irradiance power of their devices at 6" in mW/cm2, this is as summarized in the table at the top of the page.
Some of them also provide irradiance power of the devices at varying distances, however 6" is the standard and also is provided for all three devices which makes for an easy comparison.
Joovv and Mito Red Light also provide total light output energy in Joules via an independent testing organization and we've stated this in our comparison table at the top also.
The range of total output energy in Joules we've provided above for the RedRush is based on the mW/cm2 at 6" to the tested output in Joules ratio for the Joovv and the Mito Red Light. Using these ratios we extrapolate the value of Joules output in 10 minutes for the Red Rush to give ourselves a picture of its likely range of output in Joules.
Typically when we go to measure what factory reported power levels are for any kind of device the measurements we find are lower than what the factory reports, a common example of this is the rated horsepower of a car versus what an independent test would find.
This is because like in our car horsepower example, the factory tests the power at the motor, before it even gets put into a car.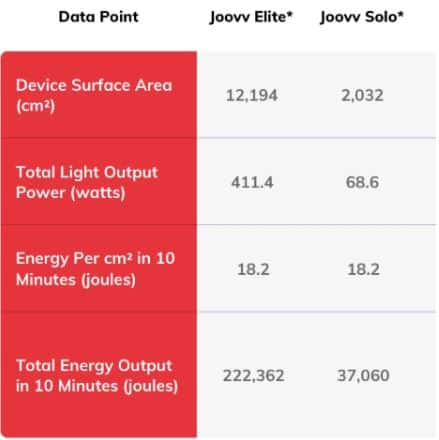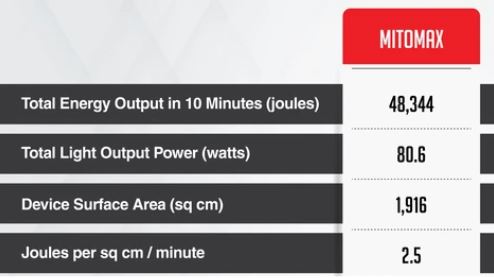 Similarly when we test power output of red light therapy devices, we will likely see a lower power level when testing in a real life application.
Above we report independent testing values for the power output which we found and they appear to correspond with the factory reported irradiance power.
Remember that with distance from the device's red light output that this irradiance energy drops off quickly.
While some argue that it's very important to be further away such that you don't have "hot spots", the spots where the light is shining on brighter, we argue that by simply moving or shifting position a little during treatment solves this issue.
EMF Shielding & EMF Output of Devices
In the above table we report the EMF's of all devices to be in the negligible range.
This means that you can safely set aside your worries of EMFs from all of these products when comparing them to make a choice.
We say that they are all negligible for a couple of reasons.
First, they are all in the range of less than 0.0 microTesla.
We searched the PubMed website for articles testing the damages from different strength intensities of EMFs to find out what levels should have us worried.
We found one article, A Review on Electromagnetic Fields EMFs, which found in the range of milliTesla we should be careful with lengthy exposures; 1 milliTesla is equal to 1000 microTesla.
All of the red therapy devices are in the range of 0.0 microTesla, this would mean that they would need to emit EMFs more than 10,000 times stronger to reach levels where caution should be exercised.
Additionally this study found that even lengthy exposures at the 500 microTesla range showed no adverse affects, and even then to reach those levels these red light devices would need to emit EMFs more than 5,000 times greater than they are now.
Second reason that we say they are negligible is in a comparison to everyday electronic devices.
This helpful website lists the EMFs from everyday electronics including laptops and iPhones, EMF Levels of Apple Devices.
What we find is that they are all also operating in this same range as the red light therapy devices. 
You can see this for yourself by taking the mV/m EMF figures they provide on the website and converting them in to microTesla, a helpful tool for this is this webpage, Field Strength Calculator.
Read more about how to protect yourself from EMF's and restore damage from them on our page EMF Protection.
Healthy Wave Mat, Far Infrared Therapy & Red Light Therapy
Another product which uses red light therapy are the Healthy Wave mats.
They come in many shapes and sizes including the Healthy Wave Multi-Wave which combines red light therapy, PEMF, and far infrared therapy.
The red light therapy on the Healthy Wave devices are not to the same strength as the Mito Red, Red Rush or the Joovv, simply because they do not use as many lights as the red light therapy panel products do.
The Healthy Wave mats are all designed for far infrared heat therapy, and some for PEMF therapy also; the red lights have been added in as a bonus.
Return Policy
• 45 Day Full
Warranty
•  15 Month Full (controller 5 year)
Price
• $399 USD
We thought it pertinent to mention them for this red light therapy review however because we are aware that many people use red light therapy for pain management and muscle recovery, and far infrared therapy is an excellent tool for both of these (as is PEMF, however those are pricier products).
In terms of a far infrared mat which combines some red light therapy, we really, really, like the smaller Healthy Wave Far Infrared Heat & Photon Therapy Mat. 
It heats amethyst crystals to provide a deep, circulation enhancing heat and it can easily be wrapped around the leg, arm, or around the lower back. 
This author has used it frequently on my lower back for pain management and recovery while writing these articles.