The Biobelt by the Richway Biomat company, is also known as the Biomat belt, and the Biobelt 7000.
Biobelt is a far infrared heating belt which generates its heat mainly from amethyst crystals, and can be worn around the waist to aid with back muscle pain. It's the smaller sibling of the Biomat flag ship product, the Biomat 7000MX Professional.
In this review of the Bio-belt we're going to review the therapies it provides, its crystals, the construction, pricing, warranty and more.
Price
• $600
Return Policy
• 30 Day Partial (past 15 days refund is 50%)
Warranty
• 3 Year (limited, customer pays "repair" fees after 1 year)
• Customer pays shipping
See How Biomat Compares ↓
Price
• $449
Return Policy
• 90 Day Full
Warranty
• 1.25 Year
• 5 Year Extended Controller Warranty
• 5 Year Extended Limited Warranty
Check out product page here ↓
How Was Biobelt Popularized
You may have heard of the Richway Biomat company, they've been around for many years now and are most well known for their Biomat Professional 7000MX model.
Richway popularized their product through the MLM marketing model, multi-level marketing, and have become likely the most well known far infrared mat company as of current times.
A quick Google search can explain multi-level marketing in better detail than we could here if you're looking for more information on this.
To learn more about the Richway company and the origins and therapies of the Biomat, we recommend you check out our most in depth page about it, our Biomat 7000MX review.
What to look out for with the Biobelt
It's important to consider a number of factors when making any purchase, as our parents probably taught us, don't buy things we don't need, don't overpay for things, and don't sacrifice quality for price, so before you hit add to cart, consider the following.
The first thing to know is that the Biobelt isn't the only heating belt available, in fact some companies include even additional therapies in their belts and for less.
It's also important to be aware that there are also belts out there that are far, far cheaper, and this is because they sacrifice construction, material, and heat quality to provide a lower price.
We recommend you look around and consider all your options before deciding on a purchase, because after all at the end of the day it is a personal choice of what's best for you.
One far infrared belt, from the same brand that makes our top recommended mat, which we would highly recommend is the Healthy Wave 5 Therapy Red Light, Far Infrared PEMF Belt.
The Healthy Wave far infrared PEMF belt retails for less than the Biobelt while including PEMF therapy, and red light therapy in addition to the heat therapy.
We like to highly scrutinize return and refund policies of different brands to get an idea of their confidence in their product, Richway only gives you a 7 day window for a full refund while the Healthy Wave infrared belt provides a 90 day full refund guarantee policy which we really like to see.
Read further down the page for more on the returns & guarantee policy from Richway and be sure to check out our main review of Biomat Professional.
What to look out for with Vendors
A quick note we'd like to mention is regarding the vendors of the Biobelt.
You may have noticed after a Google search that there are many different vendors and resellers of the belt and Biomat products.
This is because of the MLM distribution structure of Biomat allowing anyone who purchases a mat to become a distributor provided they meet some criteria.
What you need to be aware of is that with multiple vendors, there will be some variance in customer service and support depending on the vendor which you choose to go with.
Be sure to look around and consider all avenues of purchase of the Biobelt and Biomat products, try and find some reviews or get a referral to a good vendor before choosing one.
Another avenue many people consider is purchasing a used product through eBay which provides protection around DOA (dead on arrival) products, although you won't have a warranty on a used product; check out the Biobelt on eBay.
The Biobelt is constructed of multiple layers, 11 in total.
The top layer is constructed of silicone and cotton, this is to provide a sturdy yet comfortable top layer for application to the body.
The second layer is a waterproofing layer, this is like in the regular Biomat and other devices as with heat therapy sweating is almost inevitable and this will protect the device from this moisture.
The other important layers aside from insulation layers and the like, are the crystal layer, the TOCA layer (which is effectively a secondary crystal layer), and the EMF protection layer.
The EMF protection layer is something included in all far infrared products of a decent quality.
Like any electronic device we use in modern life, EMFs, electromagnetic frequencies, are produced while the device is in operation.
There is a large range of ideas around the harmful effects of EMF's but a common consensus is that we are better off without them, so we like to see EMF blocking layers included in any far infrared device we use.
The Biobelt's primary therapy is far infrared therapy which it generates through a mixture of crystals.
The primary crystal used in the belt is amethyst crystal.
This crystal is commonly regarded as the best far infrared crystal to use for various reasons including that the wavelength of heat which is produced is most closely aligned with the wavelength of heat which our own body produces.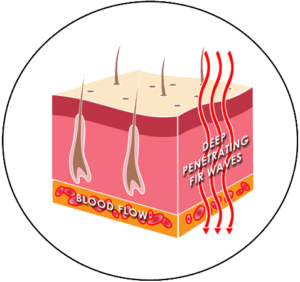 The amethyst ray's wavelength is between 6.5 – 12 microns, landing in the middle to upper range of the far infrared ray spectrum which is ideal for a deep heat penetration into the body tissues to improve the blood's local circulation, reduce muscle pain, help with muscle spasms, joint pain and induce a relaxation effect.
We wrote more on this on our pages, Benefits of Far Infrared, and our Far Infrared Mat FAQ.
Far Infrared for Back Pain
Far infrared therapy for back pain has been around for quite some time, just consider far infrared saunas which have been in use for many years.
There have even been studies to investigate whether or not infrared heat therapy is effective for back pain, you can read one here on PubMed which indicates statistically significant changes through its' use, Far Infrared Wavelength Treatment for Low Back Pain.
A far infrared belt or pad, or even full size mat can be used to apply the therapy to the back to improve blood circulation and provide temporary muscle pain, muscle spasms & joint pain relief.
Check out our pages on the Biomat Mini for an infrared pad or our page Best Infrared Mats to see a comparison of multiple full size far infrared mats. 
The Biobelt includes a few crystals in its construction.
Primarily (almost all, but we haven't seen a percentage breakdown) the lion's share of crystal in the Biobelt is the royal purple amethyst crystal.
In smaller quantities however the Bio-belt also includes, tourmaline, jade, quartz, citrine, topaz, tiger's eye, and elvan.
The only crystals in that combination that are commonly used for far infrared rays are amethyst, jade, and some tourmaline.
The Biobelt also includes a TOCA layer, (TOurmaline CAtch power), layer, made of powdered tourmaline and other powdered minerals just like the Professional Biomat and Biomat Mini. 
The TOCA layer is primarily included to generate ions and leave the heat generation to mainly the amethyst crystal and the other crystals included in lesser quantities.
All far infrared devices including the Bio-belt generate electromagnetic frequencies, just like any of our modern day electronics.
The belt includes a layer in its construction which blocks the EMF energy so you can use the device and only be exposed to the helpful heat therapy and not the EMFs that come with it.
Any product of a decent standard of quality will include an EMF energy protection layer, be sure if you're looking at multiple products to ensure your choice includes an EMF protection layer.
If it isn't on the list of product specifications, the device probably doesn't include it.
Far infrared heat therapy when it is generated through amethyst, tourmaline, or green jade crystals, also produces something called negative ions.
You can think of these ions as nature's antioxidant.
When something is an "oxidizer" it's taking electrons from the molecules of your cells, whereas these, despite their name, are a positive thing because they provide extra electrons.
Oxidizers can therefore take the electrons they need from these ions, leaving the molecules of our body's cells in healthier shape.
In the Biobelt, the majority of the ions will be generated by the amethyst crystal because it's the primary crystal used in the belt.
The TOCA layer and regular tourmaline and jade crystals will also emit these ions in the belt, and tourmaline is known to emit them at a slightly higher rate than amethyst is.
Check out more on this topic on our page, Benefits of Negative Ions.
Biobelt 7000MX Price & Sizes
The Biobelt comes in two sizes to fit all.
The regular size is 55.11" long, and the extra large is 62.99" long, both with the same dimensions for the crystals and included crystal quantities.
The price of the Biobelt is $600 USD, and this is the same price for the regular and the extra large size.
You can see a summary of other related products on our Biomat page.
One less mentioned product is the Quantum Energy pad, this is a cotton pad made with crystals but isn't a powered far infrared generator like the Bio-belt.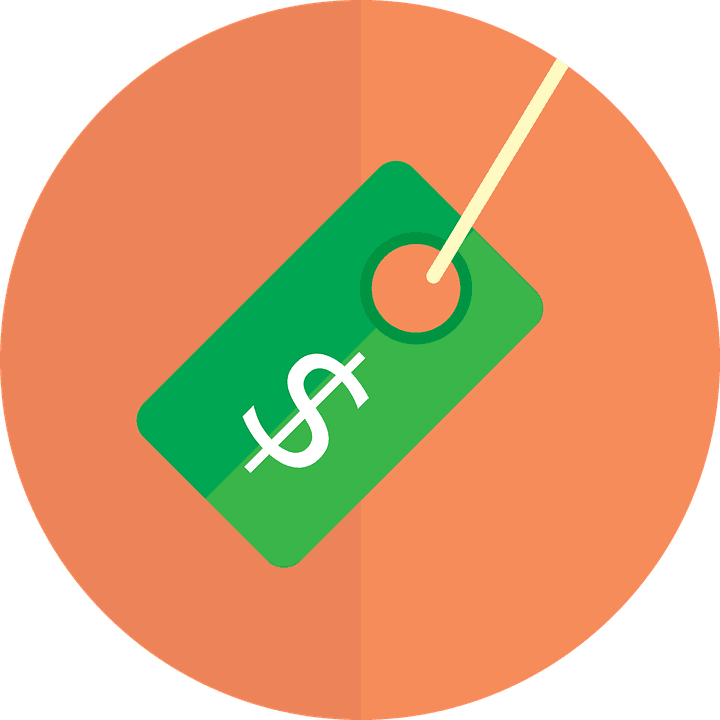 The Biobelt, like the other Biomat products, has a couple main recognizable certifications.
These include the FDA, food and drug administration, and Intertek.
Biomat products have FDA clearance through the FDA's 510(K) form which is the standard form used by the FDA to clear these type of devices as safe for use by the public.
The other main testing body which evaluated the Biomat is the Intertek company.
They're a European based company which test electronic products to deem whether they're safe for use by the public.
In this case Intertek verified both the Biomat 7000MX Pro, and the Mini Biomat are safe for use, not specifically evaluating the belt but it is made using primarily the same methods as the mats.
You can see the Intertek website here, Intertek, and most vendors of Biomat will show their testing documents on their website. 
It's important to note however that the belt isn't intended to help diagnose, cure or treat any specific medical condition and like other far infrared devices should only be considered a therapeutic device, not a medical one.
The warranty and guarantee of the Bio-belt are the same as the standard ones used for the Professional Biomat, Mini Biomat, and all other Biomat products.
We like to if anything over scrutinize the warranty and return policies of far infrared brands to see what kind of product confidence they have.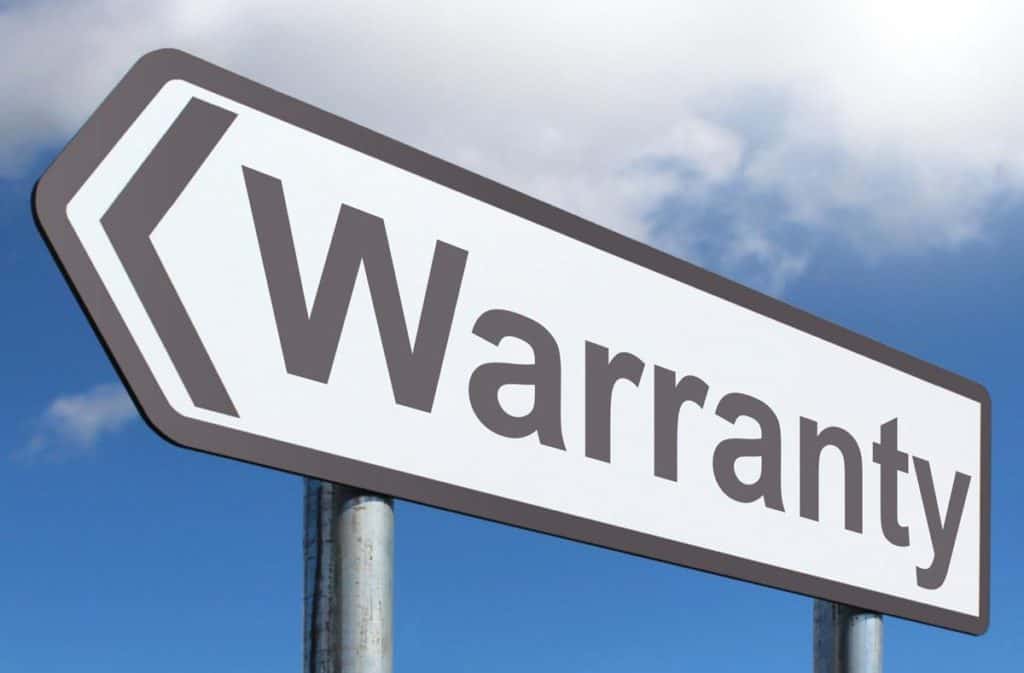 By far the best guarantee policy we've seen is from Healthy Wave, with a 90 day full money back guarantee policy, you can check them out on our comparison page, Best Infrared Mats Review Comparison, or the popular Healthy Wave Pro Mat Review.
The Bio-belt also includes a full money back guarantee return policy of 7 days from date of purchase.
The summary is as follows for the Biobelt's return policy,
0-7 days – Full refund
8-14 days – 70% refund
15-30 days – 50% refund
31 days onward – No refund
Customer pays all shipping
After the 7 day period you get a diminished refund rate of 70%, 50% after 15 days, and past 31 days zero refund.
We don't like this refund policy on the Biobelt, because if your circumstances change and you can no longer afford it, or you find you don't need it or like it, it gives very, very little time to reconsider and get your money back, also important to note is that in any case the customer pays the shipping.
The warranty policy is effectively 1 year full free warranty, past the 1 year, you have 2 years of a partial warranty which includes repair fees for any issue with your product
The second and third years of the warranty seem less like "warranty" to us and more like a repair service considering any issue you have will incur fees for repair on top of any shipping costs.
You can buy a Bio-belt from any number of places.
As we've described above the Biomat products like Biobelt have a large distribution network built through their multi-level marketing technique.
There are Biomat vendors around the world, so if you're searching from the USA, or Canada, or somewhere in Europe there may be a better, more local vendor for you.
Because there are so many vendors however, remember that the customer service and what guarantees they offer may vary vendor to vendor, so make sure to do your research first!
If you're looking for your best device options in general, be sure to check out our page on Far Infrared Mats Review Comparison, to see similar products compared against one another.
Before you hit that add to cart button anywhere be sure to check out our main Biomat review page and our overview of Biomat page, and good luck in your search!
We hope this review has been helpful and informative to you, and if it has, drop us a comment below or share it with your friends!